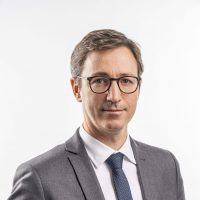 Thomas Maurisse
Senior Vice President LNG

TotalEnergies
BIO
Thomas Maurisse started his career in 2007 in the French Ministry of Economy, Finance & Industry where he became, in 2011, Chief of Staff of the State Secretary for Consumption, Small Enterprises, Trade & Services and Deputy Chief of Staff of the Minister of Economy, Finance & Industry.
Thomas Maurisse joined Total in 2012 in the Refining & Chemicals Branch where he worked successively in Germany as Head of the economic division of the Leuna refinery, then in Belgium as General Manager of the Supply Sales and Optimization activities for the North and East Europe zone.
In 2017, he joined the Exploration & Production Branch as Strategy and Sales Director of Total EP Nigeria.
In 2019, he joined the Gas, Renewables & Power Branch as Deputy Senior Vice President LNG.